Facts About Women's Hair Loss
Your First Step to a Better Looking Future!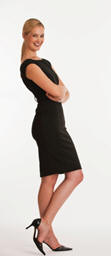 • Approximately 30 million women (one in four) experience hereditary women's
hair loss
or baldness.
• 40% of women never expect to face the challenge of hair loss or baldness.
• 50% of women experience hair loss by middle age.
• Typically, your hair is at its thickest by age 20. Once you pass age 20, however, your hair gradually begins to thin, shedding more than the normal 40-100 hairs each day.
• Fine hair is both a precursor for, and consequence of, hair thinning. Women who experience
hair loss
have a disproportionately high rate of fine hair before they start losing hair.
---
Hair loss in women triggers emotional upset.

Hair loss in women becomes an appearance issue and it can also be the cause of severe emotional stress for most women. Many women who did expect to face hair loss are often caught by surprise, sometimes up to five years earlier than expected. A recent study reported that women have a difficult time confronting hair loss:
• Female study participants under age 50 reported feeling a "severe emotional blow."
• 29% admitted feeling scared.
• 47% said they were embarrassed.
• 15% felt unattractive.
• 28% experienced paranoia.
---
New England Associates
®
provides options to combat women's hair loss.
Before using
herbal Propecia type products
,
Minoxidil
, or lasers, consult with New England Associates
®
. Our staff will work with you to develop your individual hair loss treatment plan; our plan is based on
your
specific needs and expectations. We have the answers you need. Call for your free consultation today at 1-866-HairStart (1-866-424-7782) or
contact us online right now
.